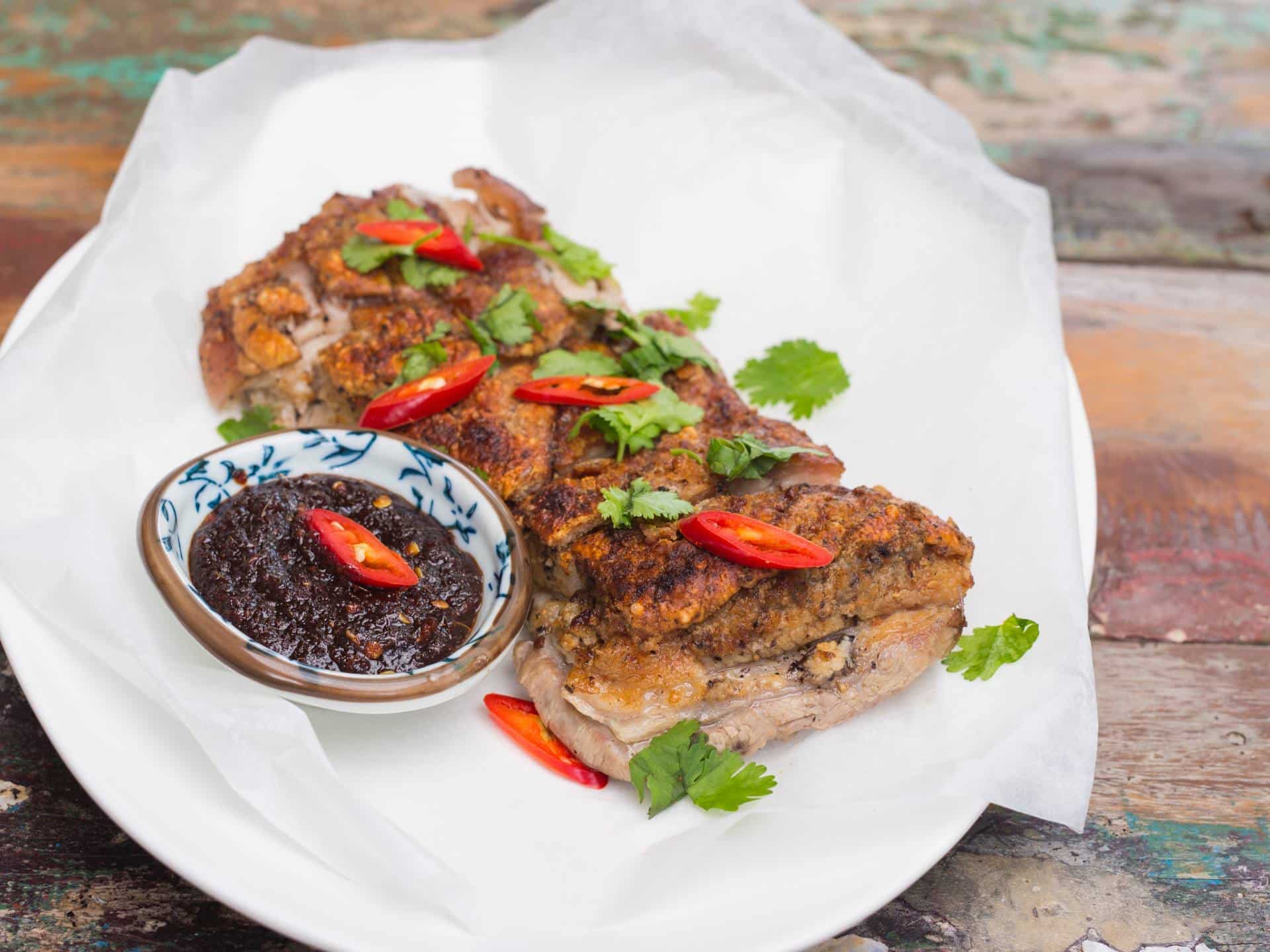 1–3 kg piece boneless pork belly, skin on
Boiling water as needed
3 tbsp pink salt flakes
2 tsp five-spice powder
Extra Virgin Olive Oil as needed
Rice wine vinegar as needed
White wine as needed
SAUCE:
1 clove garlic, minced
30g ginger, minced
1 red chilli, finely chopped
3 tbsp dark brown sugar
50g dark soy sauce
Pinch five-spice powder
1. Ask your butcher to score pork belly skin all over in a diamond pattern without cutting the meat or do it yourself with a very sharp knife.
2. Preheat oven with grill to 160°C and line a baking dish with paper.
3. Place pork belly into a dish and place into a large sink.
4. Pour a kettle of boiling water over the pork, allowing it to drain away. Pat pork skin dry with a paper towel. Place pork onto prepared baking dish.
5. Mix the sea salt with five-spice powder and rub half onto the skin of the pork. Be generous.
6. Rub skin with 1 tbsp oil, then 1 tbsp vinegar, then repeat until all the scored skin has been well coated in flavour.
7. Place into the oven on the lowest shelf. Pour in enough white wine to reach fat layer of pork belly. Cover with foil and cook 60 minutes until starting to crisp up.
8. Increase heat to 200°C and cook until pork skin is crispy and golden, 35–45 minutes. If your oven allows for a higher temperature, do so for a few minutes now, but stand and watch as it can go from perfect to burnt in seconds. Remove from oven and cover loosely with foil for 15 minutes.
9. To make sauce, combine all ingredients and cook in a small pan for 3-4 minutes on a medium heat until fragrant and blended, stirring occasionally.
10. Cut pork into bite-sized pieces and serve hot with dipping sauce.